Combating Climate Change – A Role For UK Forests: Main Report
An Assessment of The Potential of The UK's Trees and Woodlands to Mitigate and Adapt to Climate Change
Author:

National Assessment of UK Forestry and Climate Change Steering Group

Publisher:

TSO (The Stationery Office)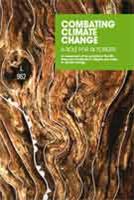 'Combating Climate Change - A Role For UK Forests' is an independent assessment, commissioned by the Forestry Commission to examine the potential of the UK's trees and woodlands to mitigate and adapt to our changing climate. This report presents the findings of the first national assessment of UK forestry and climate change and it forms part of the UK's response to the Intergovernmental Panel on Climate Change 4th Assessment Report from 2007.
This report from the National Assessment of UK Forestry and Climate Change Steering Group illustrates the threat of climate change on Britain's forests; the current impact on our trees and woodland; and the adjustments Britain can make to deal with our changing environment.
'Combating Climate Change' discusses:
the government's commitment to reducing Britain's carbon emissions;

how both society and industry could adapt to the effects of climate change and global warming; and

the ongoing development of sustainable resources.
The assessment was compiled by a number of leading scientists co-ordinated by an independent steering group of forestry and climate change experts from the UK and overseas. Much of the Steering Group's analysis has been principally of UK forests and the UK has considerable expertise in woodland creation and sustainable forest managements. However, much of the science reviewed here has wider implications. Climate change is a global problem and there are important international dimensions.
Download as a free PDF
Front cover, prelims and executive summary (PDF 1.8MB)
Section 1 - Forests and Climate (PDF 1.8MB)
Section 2 - Impacts (PDF 3.7MB)
Section 3 - Mitigation (PDF 5.3MB)
Section 4 - Adaptation (PDF 838KB)
Section 5 - Sustainable development (PDF 497KB)
Section 6 - Conclusion, glossary, back cover (PDF 558KB)
Find similar publications here: