The Weeky List
Supplied as a PDF via Electronic Delivery
Author:

The Stationery Office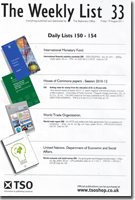 The Weekly List is a compilation of the week's Daily Lists, providing full bibliographic details of the titles published or placed on sale each day by The Stationery Office (TSO).
The List can include:
Acts and explanatory notes

Parliamentary Publications:

House of Commons Bills and explanatory notes

House of Lords Bill and explanatory notes

Command papers

House of Commons Papers

House of Lords Papers

Parliamentary debates (Hansard)

Statutory Instruments

Official Publications (including the London Gazette)

Stationery Office Publications

Acts of the Scottish Parliament and explanatory notes

Scottish Statutory Instruments

Scottish Official Publications (including the Edinburgh Gazette)

Assembly Northern Ireland Assembly Publications

Northern Ireland Statutory Rules

Acts of the Northern Ireland

Northern Ireland Official Publications (including the Belfast Gazette)

Welsh Assembly Measures and explanatory memorandums

Agency Publications: – publications from British, European and international organisations for which TSO is an agent (including United Nations. FAO, World Health Organisation, Council of Europe, World Bank, OECD)
Bibliographic details for each publication include, title, series, author/chairman, pagination, dimensions, ISBN and price.
Extent
N/A
Sub. No.
7001012
Size
N/A
Price

£90.00

Format
PDF
Frequency
Weekly
Availability

Available to order